Teléfono Permanente reached an agreement with APARTUR (Barcelona Association of Tourist Apartments).
Our company is now Participating Partner (Club Col.laborador) of this organisation which represents the tourist rental sector in the province of Barcelona. Apartur intends to improve quality of services rendered and integrate tourist apartments within the tourism sector.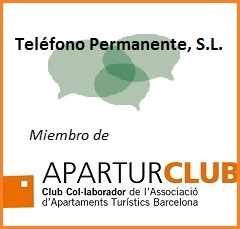 Teléfono Permanente, having large experience as Contact Center, offers service of great interest and importance to this sector, which is clearly expanding but has to face diverse challenges. Just to mention the City Councel rule by which every agency must provide 24 hrs phone assistance to users.
The Call Answering Service provided by Teléfono Permanente, which has already been hired by several apartment rental agencies, is the best solution. It allows any agency to easily comply with the regulations providing 24 hrs phone assistance.
The service offered is permanent, 24 hrs – 365 days and we have available all means that are necessary to meet the requirements and demands of the tourist apartment rental sector and guarantee satisfaction.
Esta entrada también está disponible en: Catalan Spanish English