You just became autonomous and now you are a start-up entrepreneur? Ready to turn your good ideas into money? Congratulations, you've done a good job!
Now you have to face important challenges, such as organising and planning, sorting financial issues with your bank and never ending formalities to be complied with. You would need the day to have more hours to get through all those activities.
Teléfono Permanente helps you about something really important, offering great advantages: attention to customers and suppliers.
We offer you our 24h phone solutions, e-mailing, setting and organising your appointments. We are your Virtual Secretary. And how? Very easy! At your convenience you forward your telephone line to us and we answer in your name, we take the message or provide the information to the caller as it was previously agreed. We offer this service tailored to your needs and to the requirements of your new business. All our action will base on guidelines and instructions given by you. Just as if we were your personal secretary. There is however one big difference: there is no salary to be paid. You can benefit from our 24h – 365 days service for only a small monthly charge.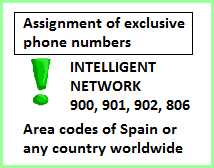 That sounds as a good idea to you, doesn't it? ;)
 Please ask for further information: or give us a call at +34 934053535 or download our information folder. You can as well send us an e-mail to info@telefonopermanente.com
Esta entrada también está disponible en: Catalan Spanish English