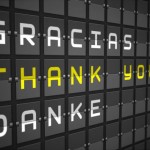 Retirement is a stage that symbolizes the end of working life…. and start other!
Marie Therese just retired with the same positive attitude that has exemplified, for more than 25 years working in our Contact Center, a large number of people who have had the pleasure of working with her.
In the 17 post he wrote in 2011 he explained, among other news, what does a contact center with a coffee machine ?, although she preferred tea.
In 2012 (22 post), we wrote about e-commerce, or the importance of talking with people and not machines, hinting at answers automating customer services, as opposed to the policy of good practice held in some contact center like ours.
In the following years, until August 2015, he wrote 21 post explaining success stories of contracting service companies Call & Contact Center and loyalty, trends, fairs and industry events.
His restlessness made him the "Community Manager" of the company, apart from performing translations, sending and receiving calls in different languages, to address administrative tasks, etc. Just four years before his retirement he began his foray into WordPress, Twitter, Facebook, Linkedin… Luckily he did because, I can now communicate with it via WhatsApp!</p
For his talent, its cultural richness, its exquisite quality education for all… thanks for sharing so much Teresa;)